In order to better monitor the operation of trains to ensure passenger safety and prevent accidents or illegal incidents, more and more railway applications use on-board CCTV video surveillance systems. However, it is not so easy to integrate the on-board CCTV video surveillance system with other train systems, such as the PA system, because there are a large number of restrictions, such as harsh environments, high vibration, small space, and difficult wiring. For trains, communication systems and video surveillance systems must be sufficiently flexible to cope with the harsh field environment. Therefore, the equipment used must be designed for in-vehicle applications and meet certain standards, including IEC 60571, EN 50155, EN50121-2-3, and will meet the IEC 62850 in-vehicle standards in the future.
First, IP video surveillance is the best choice for the future
According to the draft IEC-62580-2, the on-board CCTV video surveillance system must be connected to the train communication network (TCN), whereby real-time video can be transmitted back to the ground station or remote control center. This means that the IP video surveillance solution is the best choice and will probably be the only option because it is compatible with the IEC-62850 standard. As a result, system integrators and vehicle manufacturers need to find IP video surveillance solutions for in-vehicle applications for future projects. However, it is often found that most IP video products on the market do not conform to vehicle applications, even products designed for in-vehicle applications rarely meet the needs of new systems, because compared to traditional on-board CCTV video surveillance systems. Different needs, different environments, and installation methods have undergone great changes.
This article refers to the address: http://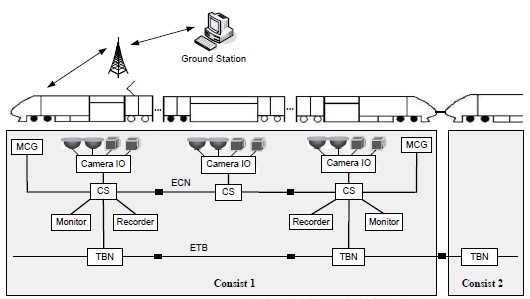 (Figure 1: Topology diagram of the vehicle video surveillance system under the IEC-62580-2 standard)
Second, the traditional train communication system
Analog cameras and DVR solutions are more common for traditional train communication systems, but this is no longer the best solution for the following reasons:
● Because it is a closed and independent system, it is difficult to integrate with other systems, such as PA, fire alarm, emergency telephone network, etc.
● The recorded video is mainly stored in the removable hard disk, so the administrator needs to manually replace the hard disk every time you view or back up the recorded video, which is very troublesome and laborious.
● Real-time viewing is not supported. In the event of an accident or emergency, the administrator at the remote control center cannot see the specific circumstances of the incident and cannot respond in time.

(Figure 2: Traditional video surveillance system supporting DVR)
Third, the IP camera is a necessity
In IP video surveillance systems, IP cameras are the focus. At present, IP cameras have quickly become mainstream because they are easier to install, manage and integrate, and support remote access, reduce wiring, and have a high price/performance ratio. Most importantly, the IP video surveillance system ensures that the entire train system can cope with the rapid development of the years to come.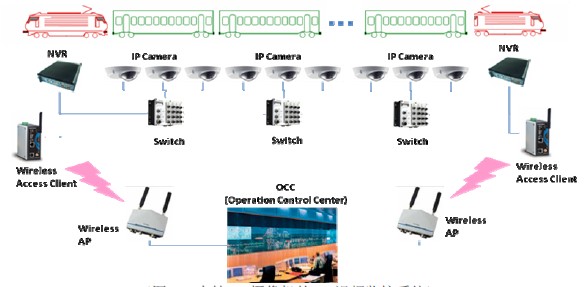 (Figure 3: IP video surveillance system supporting IP cameras)
Based on the above description of technology trends and product development, the four reasons for choosing an IP camera are as follows:
Easy to install and use:
● All IP cameras and NVRs can be easily connected to the TCN. Connected to the train communication network.
● Reduce wiring work compared to analog cameras. No additional coaxial cable is required, making it ideal for space-constrained cabin environments.
● IP cameras and NVRs can be accessed and managed remotely over a network.
High cost performance:
The use of wires on trains is very expensive compared to general-purpose coaxial cables because the wires must also be fire resistant. The IP camera itself requires less cable, and most IP cameras also support PoE functionality, which can significantly reduce wiring costs and power line costs.
Easy to integrate:
The train monitoring system has many subsystems, and it is very hard to manage these subsystems. The IP camera can be easily integrated with subsystems and easily integrated with the SCADA system in each station control room, which greatly enhances the overall efficiency of management.
Remote access:
The biggest advantage of IP video surveillance systems is remote configuration and access. From anywhere in the world, multiple authorized users can remotely access live video and recorded video at any time via the web.
Fourth, how to choose a correct IP video surveillance camera
In the future, in-vehicle video surveillance systems will standardize their application standards, so the right solution provider must be selected to get the best solutions and products that meet the standards. Not only that, but the supplier must have sufficient capabilities to ensure that the product meets the harsh environment of automotive applications such as temperature, shock, vibration and electromagnetic interference.
The following criteria can be used as a judgment for your choice of the correct IP camera:
Sturdy design:
The EN 50155 and IEC 60571 standards provide basic requirements for on-board equipment, including equipment performance, shock resistance, vibration resistance, operating temperature and EMC resistance, ensuring reliable operation in the vehicle environment.
Best video effects:
Resolution, frame rate, and video quality are several criteria for measuring video performance. Video performance is higher, video quality is clearer, but higher bandwidth and additional storage requirements are also required. Due to limited network bandwidth and storage space, traditional car video surveillance systems cannot provide day and night HD surveillance video. At 5 to 15 frames per second, the system uses a VGA video with a resolution of 640x480; the MJPEG format is the preferred codec. With the popularity of HD (1280×720) images and H.264 codecs, the entire video surveillance system can provide better video quality, support for higher compression ratios and lower latency. It is no wonder that the IEC62580-2 standard also recommends HD and H.264 formats.
Resolution maximum frame rate

(Table 1: Comparison of video quality by IEC 62850-2)
Image Quality:
Camera lenses, sensors, and control parameters directly affect the quality of the image. For the best image quality, you should consider the following conditions for the IP camera used:
1. Range of View (FOV ): The FOV determines the range of the camera's "captured image", which is related to the angle of view of the lens. In general, the focal length and mounting position (height and angle) of the lens are two key factors in determining FOV.
2. Illumination (lux): Image quality is highly dependent on illumination. If the environment is dim, the IP camera uses a high-performance, low-light sensor that captures day and night images, ensuring good image quality in low light conditions. CCD sensors typically perform better than CMOS sensors in low illumination environments. Recently, however, CMOS technology has grown rapidly, and some of the most advanced CMOS sensors offer the same image quality as CCD sensors in low light conditions.
3. Camera control parameters : camera control parameters include wide dynamic range (WDR), backlight compensation (BLC), digital noise reduction (DNR), white balance (ATW/AWC), electronic shutter and exposure, etc., all for Enhance image quality to suit different field environments. These parameters should also be configured for different environments to ensure optimal image quality.
Easy to install :
Needless to say, easy installation can save system integrators more time to do more important things.
1. Convenient installation : Due to the limited space of the train, there are two ways to install the IP camera: one is surface mount (directly mounted on the ceiling plane), and the other is flush mount (installed inside the ceiling, only See some cameras and shields).
2. Reduce wiring : PoE can effectively reduce the cost of power wiring, and does not need to consider grounding, because it is very troublesome to ground the electrical equipment on the train.
3. Compact size : The ideal size of an IP camera depends on how much installation space is available and what the camera is going to do, such as surveillance, crime prevention, and more. Since most people don't like to be monitored, the smaller the camera size, the lighter the better. Of course, the most important thing is to see if the camera itself passes the EN 50155 anti-vibration standard.
4. Software configuration : Some vehicle projects may involve ten, twenty or even more trains, which means that there are hundreds of cars to install this system. Because of this, be sure to choose an easy-to-use software configuration tool that saves a lot of configuration time and effort.
We have a full range of plastic jar Food Blenders, including 1L, 1.25L, 1.5L, 1.6L plastic jar food blenders with grinder. Plastic jar also have different materials, PS jar, AS jar and PC jar. Plastic Jar Blenders usually with 300/350W 7020 or 7025 motor.
Discription of Plastic Jar Food Blenders
Size: 1L, 1.25L, 1.5L, 1.6L
Material: PS, AS, PC unbreakable jar
Controls Type: Rotary switch, push button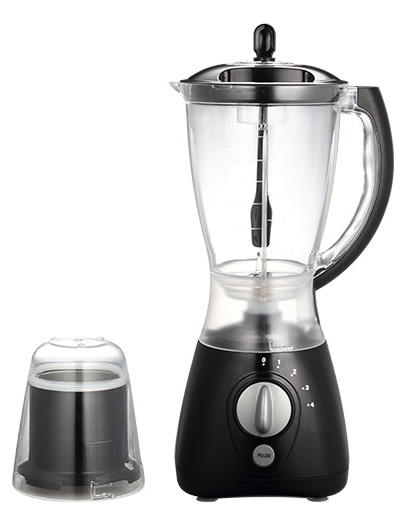 Plastic Jar Food Blenders
Plastic Jar Food Blenders,Plastic Jar Blenders,Blender Food Processor,1.5L Blender
Flying Electronic Co., Ltd , https://www.flyingelectronic.com